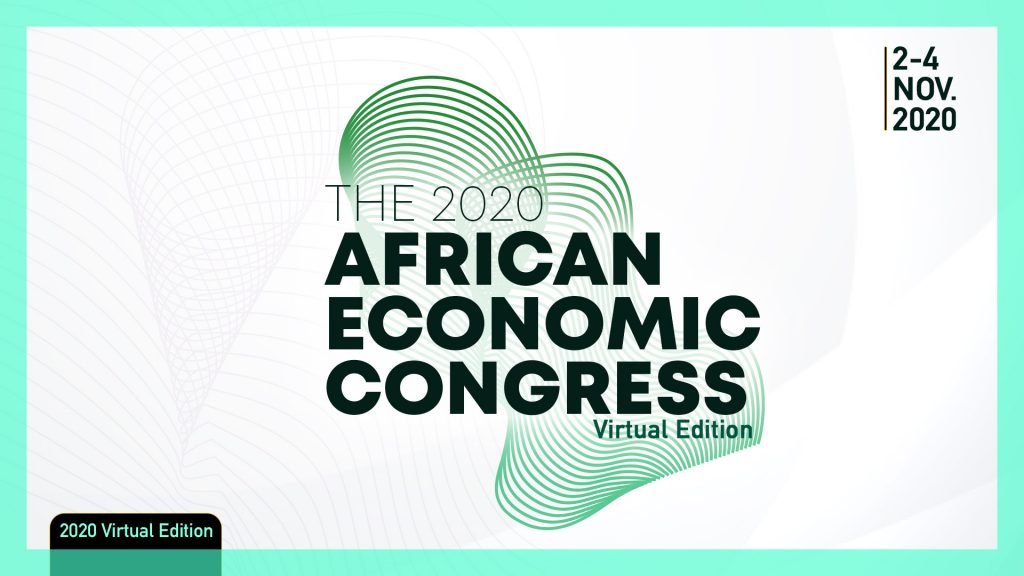 AFRICAN ECONOMIC CONGRESS 2020
Overview
The Economic impact of the coronavirus pandemic is already being seen in Africa. With multilateral agencies development organisations predicting Africa entering into a critical economic decline, and fiscal struggle, depending on the success of measures taken to mitigate the pandemic's effects. According to the IMF, Africa's economy might experience its first recession in 25 years due to the coronavirus.
Meeting for its 2nd Annual Congress in Nigeria: The African Economic Congress (AEC) will bring together visionary and innovative leaders from around the world to communicate with each other, focus on new ideas that will impact the changing economy around them.
The virtual gathering is scheduled to hold from the 2-4 November 2020, and anchored under the theme – "Post Covid-19Africa in the New Economic Order". Ensuring 2063 is a turning point for achieving a more sustainable Africa and inclusive future.
AEC Virtual 2020 – The online version of the Congress will be filled with live broadcasts, presentations, interviews, webinars and online debates on the economy, which, having found itself in a completely new situation is looking for answers to basic questions.
A collaborative approach is required to lead during these times of COVID-19; flourishing societies depend on active participation from every aspect of society. Join us, as we merge our individual and collective abilities to achieve the future that we want.
Additional economic sessions occur throughout the Annual Meeting, including interactions with key African leaders and opportunities for community building.
Meeting objectives
Sessions and activities spread across the three days are designed to advance Africa. Meaningful interaction is key to generating insights, sharing ideas and finding solutions. The Congress is designed around four types of interactions:
Explore the context: Participate in Insight Expeditions to explore first-hand technologyand sustainability issues in various industries and organizations. Develop an understanding of Africa's contributions to global innovation.
Shape systems change: Expand your thinking and join conversations that bringtogether diverse perspectives on today's most relevant issues in thematic sessions. Create, debate and share solutions for systems change.
Redefine leadership: Look inward and reflect on your leadership through dailyinteractions, combining dynamic presentations and dialogue on topics including management, health and well-being. Gain new skills and knowledge.
Take action together: Work together to put ideas into action during AEC Action Labs.Contribute to the global public good, building on the AEC guiding principles of generosity, authenticity, respect and impact.
Who is taking part?
Pioneers of Technology–Businesses active in the development of life-changing innovations that have the potential for long-term effects on industry and society.
Institutional Members and Partners–The biggest and most prominent global companies represented by their research and growth, policy, technology and innovation chief managers and chief executives.
Public Policy Makers – Heads of Government and international organizations, and Ministersof Trade and Investment, environment, health, science and technology, who are committed to improving competitiveness in today's challenging economic climate.
Young Global Leaders- A multi-stakeholder youth leadership group offering insight into future generations' goals and aspirations.
Civil Society and Educational Institutions- Members from respected and creative NGOs and leading universities.
Global Shapers–Individuals aged between 20 and 30 chosen because of their immense potential for future leadership positions in society.
Social Entrepreneurs–Members of the most creative business strategies and social impact driving collaboration models.
Young Scientists – Exceptional young researchers from around the world who haveproduced ground-breaking work in various scientific fields.
Cultural Leaders–Artists from all over the world who are questioning technological stereotypes, sharing dreams of the future and creating bridges in global issues discourse.
Media Leaders – Publishers and Editors-in-chief, top economic writers, analysts and columnists, and scienceand technology editors.
Partners and Sponsors